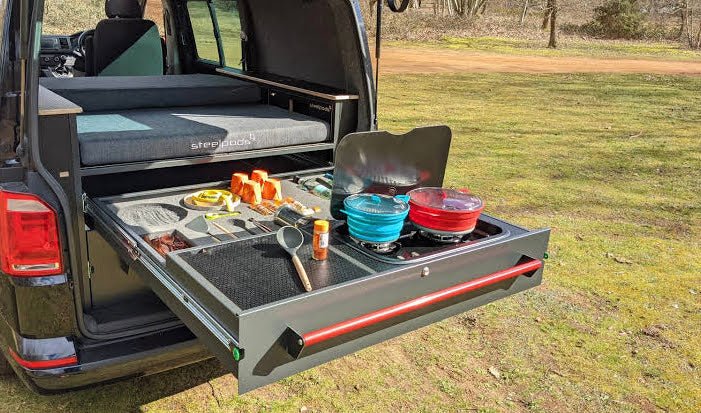 When converting a campervan, you might spend hours searching for kitchen ideas. The traditional kitchen layout inside a normal campervan conversion looks very nice, but after you've used it for a little while, you'll notice some major drawbacks. For instance, the sink becomes redundant except for brushing your teeth at night, favouring washing up points on campsites where you actually have hot water and a draining board. The cooking area is tiny, standing in it is awkward, and cooking smells are hard to shift from the curtains and fabric of the van. 
The SteelPod gives you the flexibility to create a kitchen that is completely different. The standard pod comes with a chopping board and a cooker-cut-out board, that both sit nicely in the top of the drawer. In this example, we have installed a Thetford 3 burner stove. Cooking is actually enjoyable, with enough space for two chefs. It's a great place to BBQ with mates, make sandwiches beside the beach or to use as a bar beside the camp fire. 
At the back of the drawer, we've used Shadow Foam to hold all our pots, plates, cups, cutlery, tins and bottles in place.  
---