DIY Campervan Conversion Ideas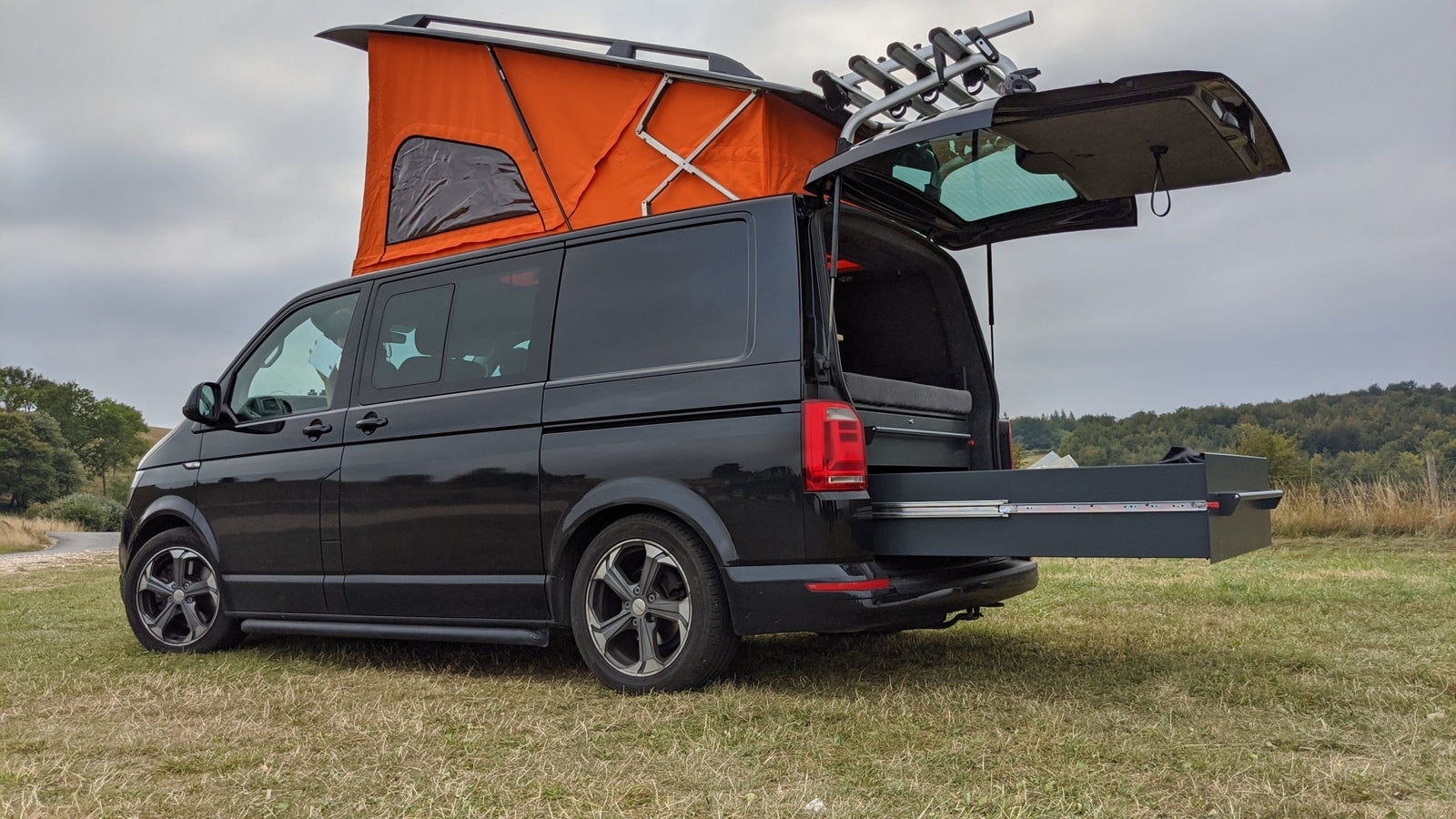 If you are thinking about a DIY Campervan Conversion for a VW Transporter (T5 or T6) then there are many benefits of using a SteelPod as a starting point.
In the first instance, the SteelPod can be installed in under 1 hour and includes a double bed, two massive steel storage drawers and worktops. That's the bulk of hard work completed. The SteelPod is fitted without causing any damage to the van. There are no holes to drill, no glue, and it can be removed without trace. Its steel frame is secured to the floor using the four lashing points found in VW Transporters. Simply unscrew the lashing points, remove the plastic cups, and then bolt the pod to floor using the same threads. 
This is the Pod fitted in a short wheelbase Kombi. Note you don't have to buy or fit a rock'n'roll bed because the steelpod fits nicely behind the existing rear seats.
If you're going to insulate a line the van, then you might want to do this before  fitting a SteelPod.
The photo above shows the worktops on the pod. These are made from 18mm birch plywood and can be easily cut. You can therefore easily fit USB chargers, lights, speakers and other accessories. 
All our worktop parts come with a 1cm wide channel cut in the underside, for hiding your LED lights. 
You can create a fantastic kitchen in a SteelPod. The top drawer cleverly holds two boards in place, that can used as a chopping board and a cooker cut-out panel. In the example below, we have installed a 3-burner Thetford stove and used Shadow Foam to secure all our pots, plates, cutlery, bottles and tins.
If you're going to install a SteelPod, these are some of the other conversion jobs you might to consider:
Electric points at both wheel arches, where you can connect your USB chargers and other accessories. 
A wheelarch 24L water tank can fit nicely between the steelpod frame and the side the vehicle. You can secure the tank to the steelpod frame using the build-in threads you'll find on the right-hand-side of the pod. 
For gas, there is space to install a small tank between the steelpod and rear seats. Alternatively, an underslung tank fitted to the bottom of the vehicle is a good solution. There are great gadgets, like bullfinch connectors, that can provide a quick release tap mechanism.
---