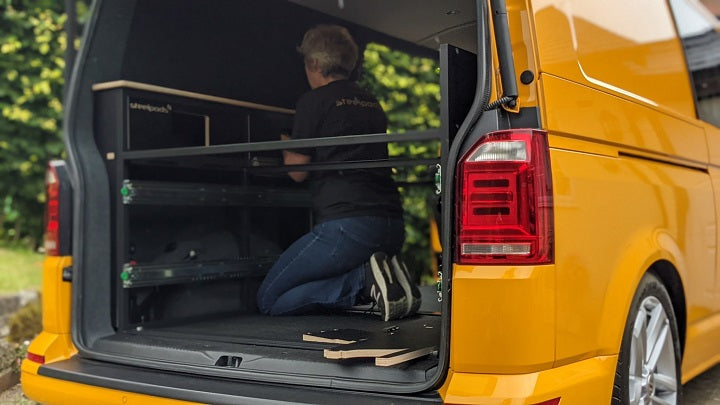 It starts with a frame
This steel frame bolts into the existing lashing points found in the floor of your transporter. So we do not screw, glue or attach to anywhere else in your vehicle.
We cannot put the frame on top of the caravelle floor rails, as we might damage these.
Locking Drawers
People spend hundreds buying safes for their van. The steelpod has two locking drawers as standard.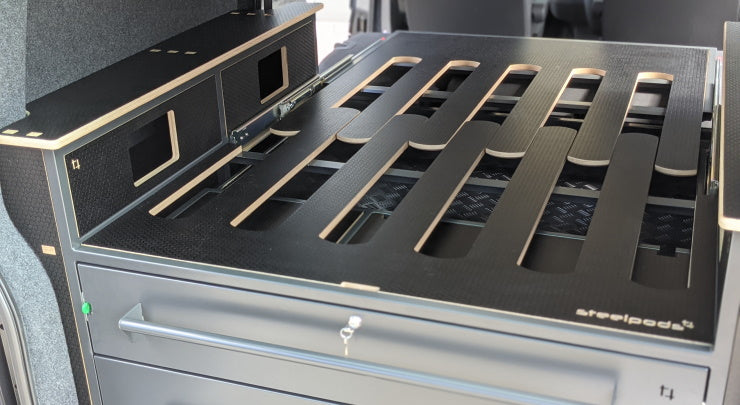 Pull Out Bed
A seriously clever bed. If you have a Kombi or Shuttle, then just fold the seats flat and the bed slides over the top. It is the only bed that neither has feet, nor does it place any weight on the rear seats. It's fully self-supporting. It works with SWB and LWB models. However, it doesn't work if you have a 6-9 seater van (with a third row of seats).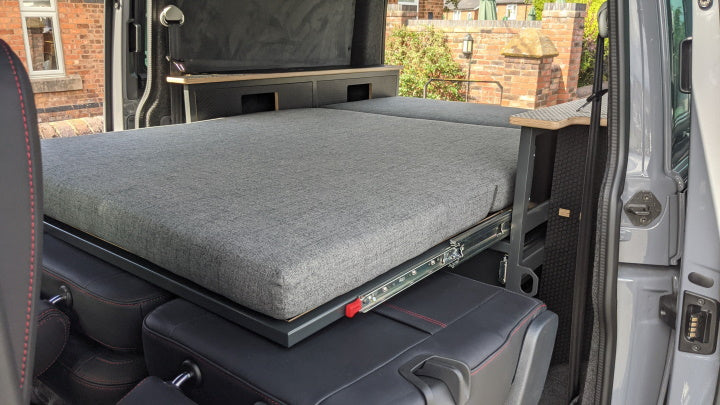 Works with rear seats
This photo shows the bed in the extended position, over the rear kombi seats.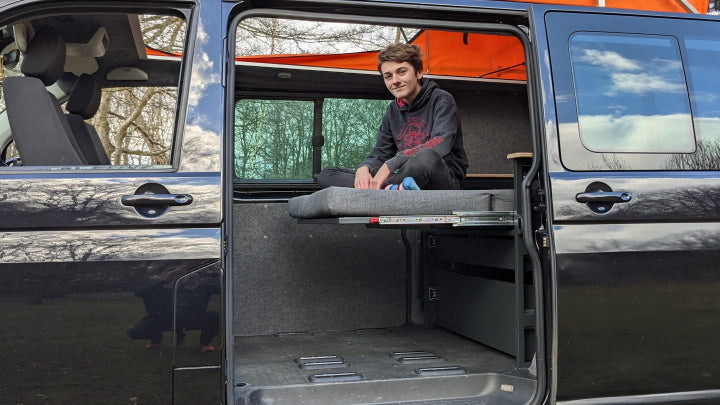 ... or without rear seats
No hinges, wobbly legs, weak parts or damage to your rear seats. This photo shows how the bed is self-supporting when fully extended.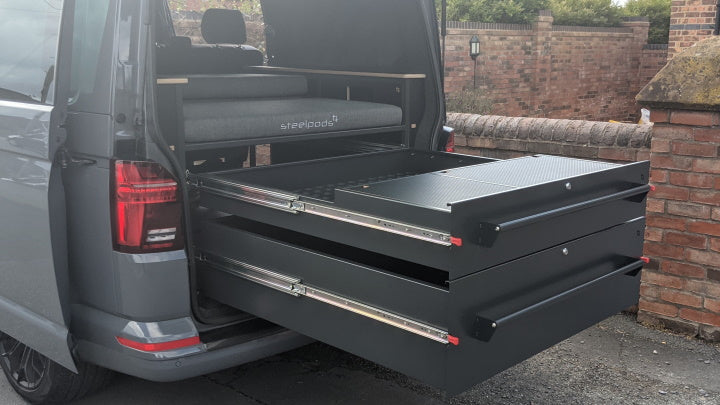 Millimeter Precision
The steelpod has been designed by surveyors and engineers, fabricated to be millimeter perfect, and is powder coated for a robust and smooth finish.
Huge Capacity
The bottom drawer fully extends outside the vehicle. Good job it's powder-coated steel, because it can handle rain and being washed. It's 30cm deep and can carry 200kg.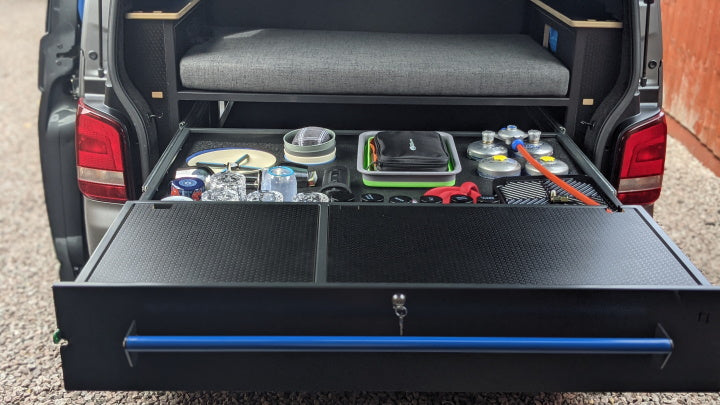 Clever Top Drawer
The top drawer has two compartments at the front, with removable timber inserts that go on top. Either lift these inserts to reveal more storage, or use them as a handy place for cooking and working.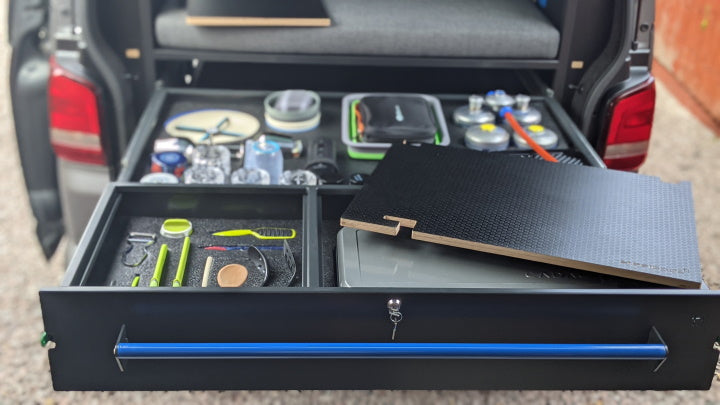 Clever Top Drawer #2
Every customer does something different. This great photo was sent to us, showing kitchen utensils and a portable gas stove neaty arranged in ShadowFoam under the timber inserts.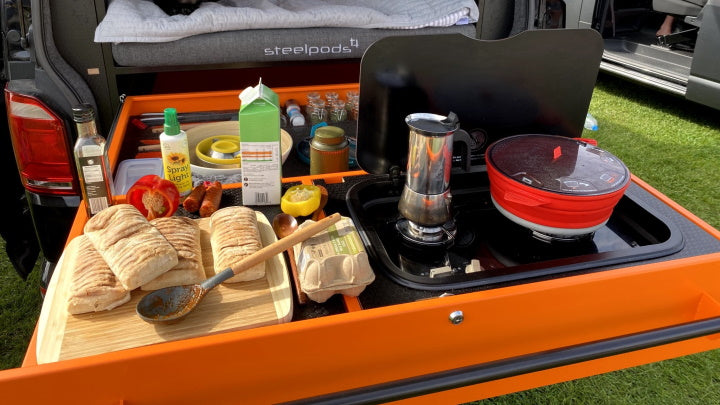 Cooker Ideas
The SteelPod doesn't come with a cooker, but they're very easy to fit into the top drawer inserts. The one in this photo is a Thetford Topline 2-burner.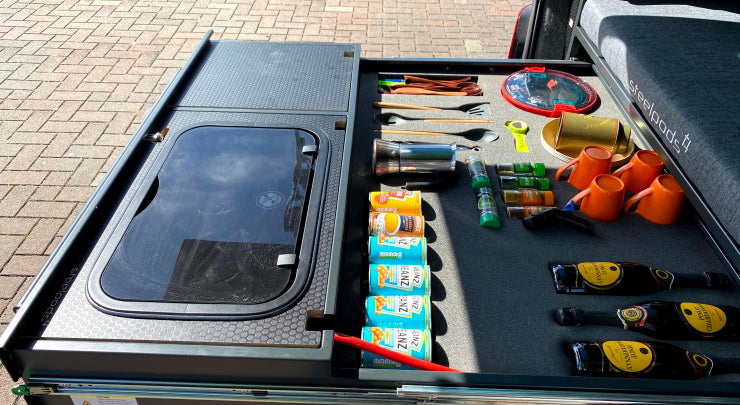 Storage Ideas
Use easy-peel ShadowFoam to keep all your tools or cooking equipment safe and secure. Get a 15% discount by using discount code 'steelpods' at Shadow-Foam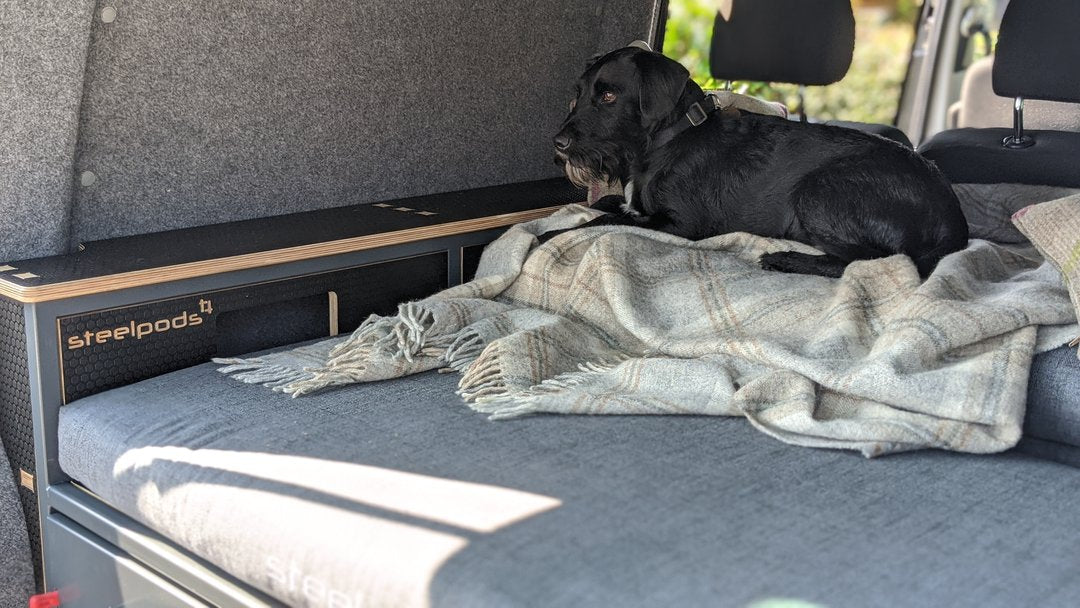 Dog Ideas
Safely transport pooch in comfort, by securing their lead to the drawer handles.
Colour matching
Some like a touch colour on the handles, others prefer bold colourful drawers. Whatever your preference, customise your steelpod with a huge choice of colours and combinations.