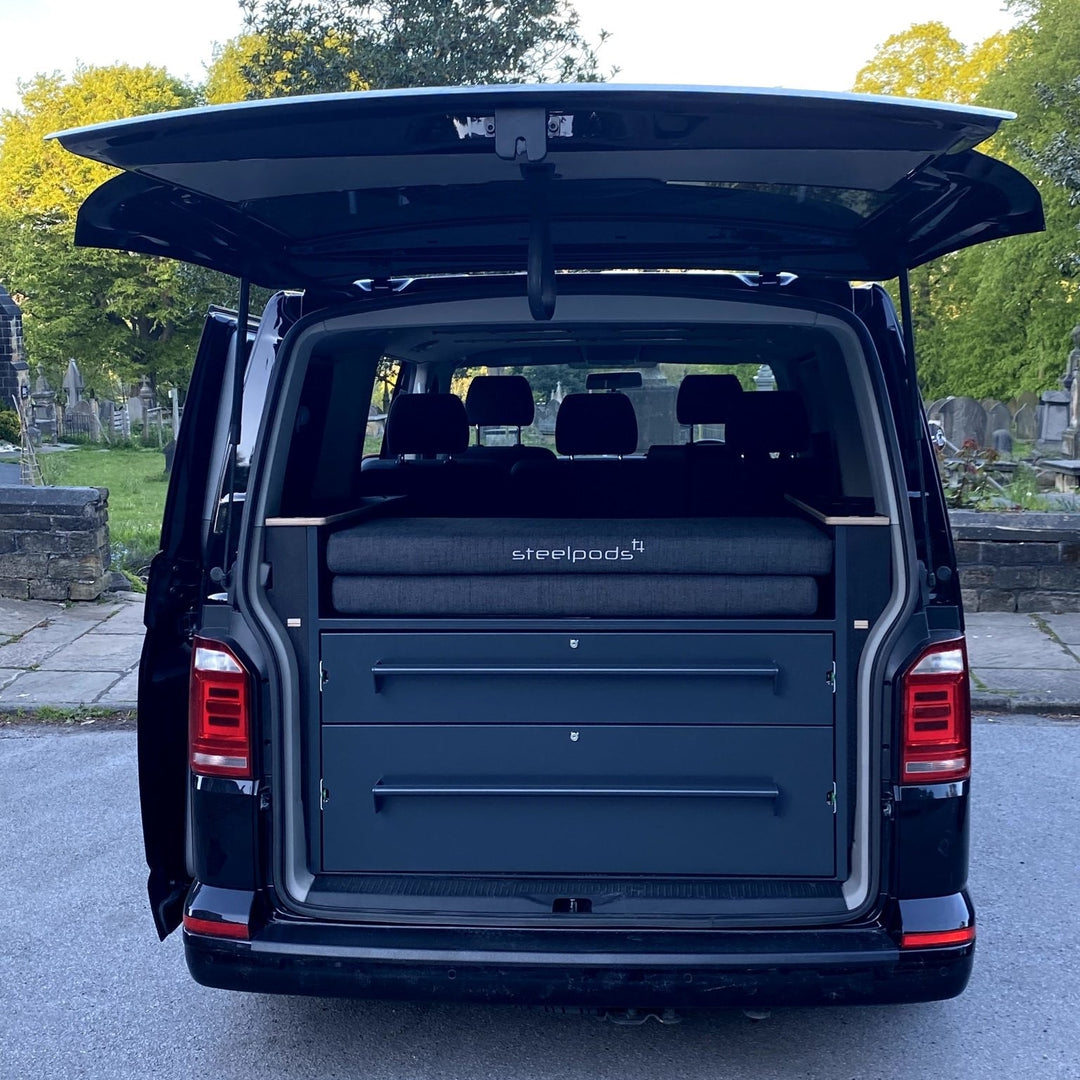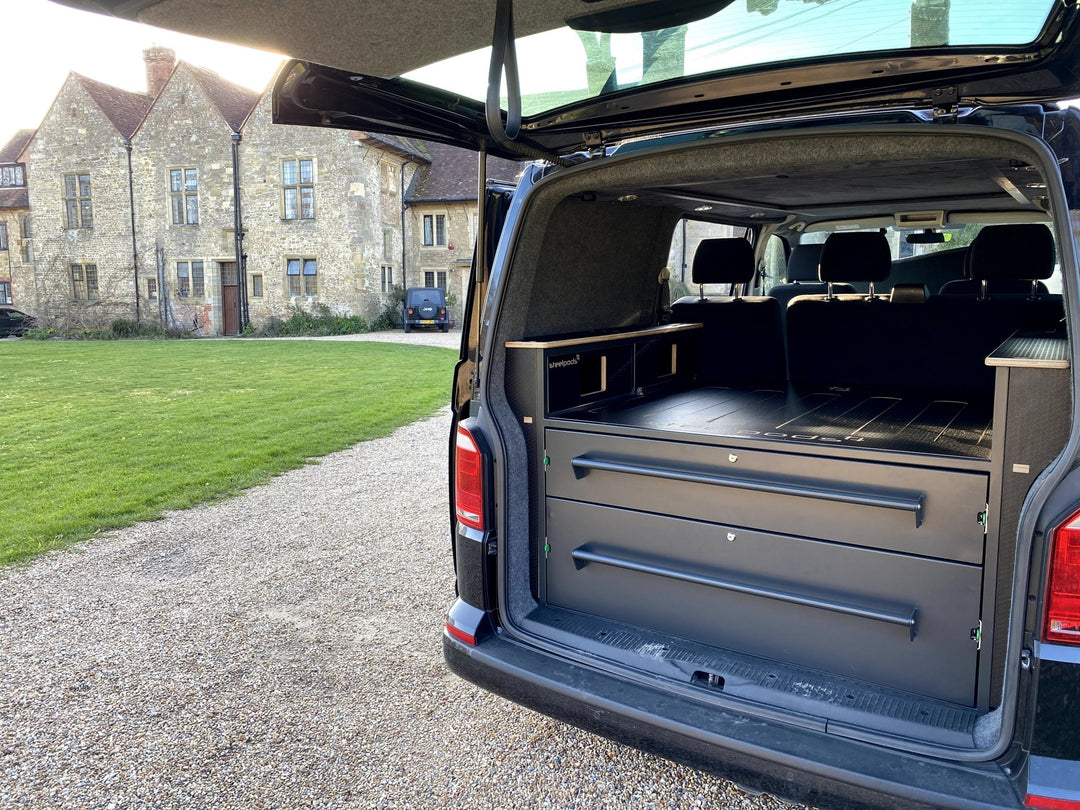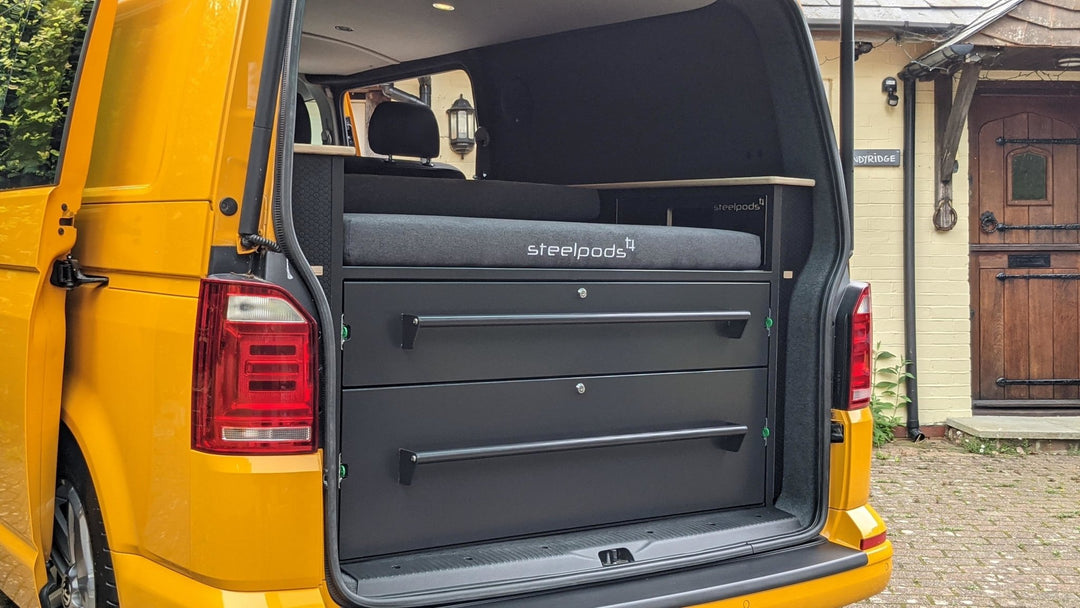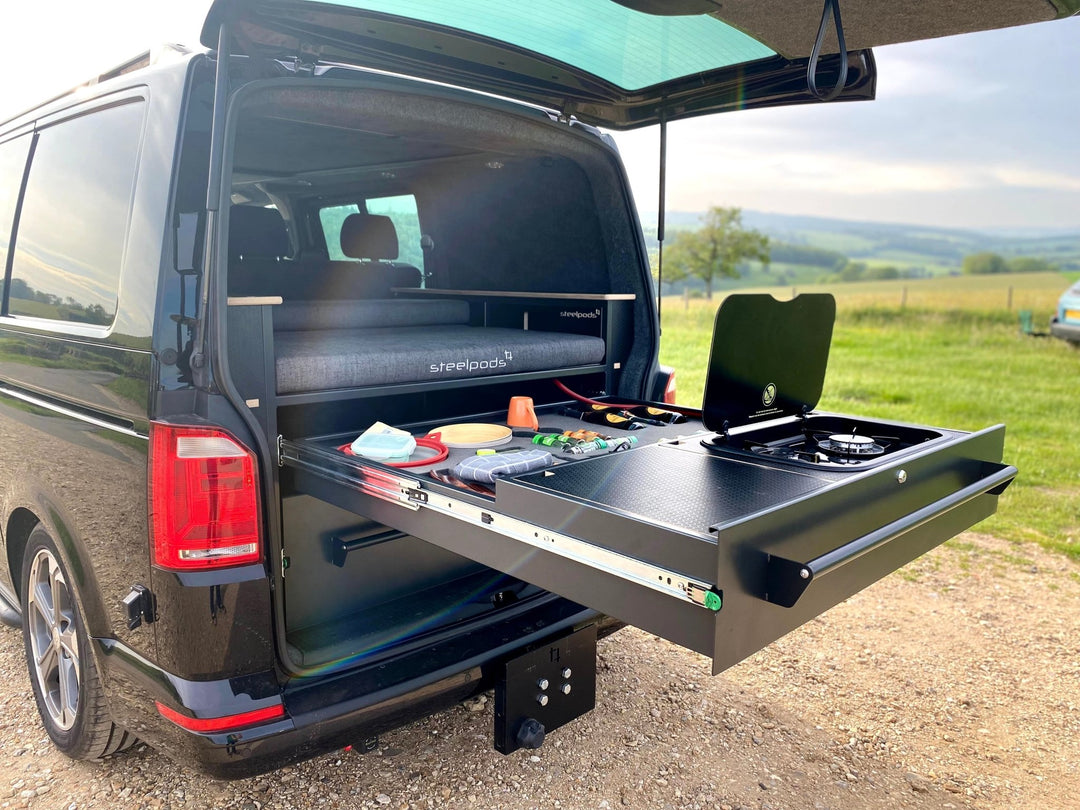 VW Shuttle SteelPod (Campervan Conversion Pod)
Price is now fully inclusive of tri-fold mattress and fitting
---
Fitted in around 2 hours, at either SteelPods (South), Leighton Van (Midlands) or Skyline (North)
Completely transform your VW Shuttle, with our Shuttle SteelPod. 

We install the SteelPod on your driveway, or at one of our locations and it's generally completed in 2-3 hours. The frame is first installed into your van and slides between the plastic trim on the sides of your van. The frame is then secured to the floor through your existing lashing points. 
We then fit two enormous steel and aluminium drawers that provide you will a huge amount of storage. The contents of an overflowing shopping trolley would easily fit in the bottom drawer alone. The top drawer has clever removable worktops that can be customised into a kitchen area or used to insert a stove. Both drawers side effortlessly. 
To use the bed, just fold the rear seats flat and the bed slides over the top. It is the same width as most Rock n' Roll beds and suitable for two adults. 
All SteelPods have the same metal frame and drawers, but this shuttle version comes with different timberwork to match the shape the shuttle's plastic trim. In the future, if you decide to put your SteelPod in say a panel van or kombi, then we can provide replacement timbers to fit. 
This will truly transform your Shuttle into a brilliant family car, campervan and the potential to BBQ and socialise depending on how you modify and use the top drawer.
All shuttle pods come with a mattress. Reserve your SteelPod with just £100 deposit. Will will telephone a few days after your order to discuss your colour options. 
Please note. The SteelPod is not compatible with the third row of seats. These will need to be removed. 
All new SteelPods come with a unique and comprehensive warranty.
We genuinely want your SteelPod to last for years and years. If you ever want a spare part or an extra piece, then please do get in touch and we'll be happy to help. 
If something more serious has happened, then below is our small print for our warranty. However, if you think you are not covered, because say your warranty has expired, then please in touch anyway. It should always be repairable.
Steelwork
We guarantee the structural integrity of the mainframe and the steel drawers for two years from the date of purchase, or 5-years if your SteelPods is professionally fitted by us or one of our approved fitting centres. The warranty will include things like cracks or failed welds to the steelwork, in a way that might cause weakness or movement. 
In the unlikely event that work needs to be carried out under warranty, then there are a couple of options. You can return the unit to us (just the parts that require attention), and we can repair or replace and return these to you. Alternatively, we may decide to arrange for the unit to be repaired local to you, by finding a welder or metal fabrication firm. In this circumstance, we will reimburse you, or the welder, the reasonable cost of repairing the unit. We will pay for work to the steelwork, and to paint with a similar colour. Please note that we will not reimburse for shipping, investigations, consequential losses, accidential damage, poor fitting not undertaken by us, or works that are purely cosmetic and do not affect the strength, operation or integrity of the SteelPod. The method of repair is entirely at our descretion. All requests for financial reimbursement must be pre-approved by us, in writing, and we may request photographs and up to two fixed price quotations in order to assess the claim and damage remotely. 
Our warranty does not extend to damage caused by misuse or poor care, items that have been customised after they have left our workshop or cosmetic marks that have not impacted on the structural integrity. 
It is not possible to powder-coat a second time and therefore any repairs undertaken may require spray painting.
Timberwork
We provide a two-year warranty for all timberwork for cracks, fractures and peeling laminate that has not been caused by misuse or fair wear and tear. It is important to note that the birch plywood may gather surface mould if left unprotected in areas of high humidity. We therefore encourage all users to apply a water-based varnish to the edges of the timberwork, that do not have laminate coverings. The laminate does not need protection.
Sliders
We provide a 12-month warranty for the sliding mechanisms. The warranty on the sliders will not be warrantied when:
Damage is caused by unauthorised attachments or modifications;
Sliders which have been repaired or altered 
Sliders that have been overloaded
Defects caused by incorrect and/or poor maintenance and /or
Any other abuse, misuse or neglect by the purchaser.
Investigations and Travel
If you have any doubt, you may visit us at our workshop and we will investigate any problem free-of-charge. Visits to your address will incur a travel charge at 18p/mile for the return journey. 
Replacements
If, for whatever reason, it is necessary to replace a part, then we reserve the right to provide new, nearly new, refurbished or marked products, provided the replacements are in better condition than the ones removed, and are in full working order.
Transferring Your Warranty
Should you decide to sell your van with the SteelPod inside, then the warranty will continue for the benefit of the new owner. They must be able to prove that they purchased the van and steelpod together and be able to identify the original purchaser. 
If the SteelPod was fitted by us and therefore benefited from the longer 5-year warranty, but at some point, is removed and fitted into another vehicle (not fitted by us) then the warranty will be automaticaly downgraded to reflect our DIY installation warranty terms. 
In All Circumstances
All our warranties are subject to good and honest cooperation between both parties. Customers should be able to make small adjustments themselves with only basic tools and we are always on hand to give advice and guidance. We may request photographs or inspections and we hope this is acceptable. 
Anything agreed between the parties verbally must always be followed up with written confirmation, otherwise it shall be treated as null and void. 
Unless agreed otherwise, the purchaser is responsible for all transport. 
We try keep Black/Grey SteelPods in stock and available for immediate fitting. Custom colours will be made to order. Therefore the payment and delivery timescales will often depend on colour choices.
To order, you can either:
Request an invoice or written quotation first, or;
Order and pay in full now; via the website, or;
Use the Partial Payment option on this website (the balance is payable 1 week before your fitting date)
Please expect a call from us shortly after your order. We will ask a few questions about your vehicle so the fitting day goes as smoothly as possible. All SteelPods are fully fitted by ourselves and the process takes 1.5 - 2.5 hours.
If your SteelPod and all components are in stock, then we generally arrange a fitting date within a few days. On rare occasions we've installed the next day. Fitting is free if you come to us (we have a workshop near Chichester). We make a small charge for fitting at your home address and can undertake the work on your driveway or street. 
If you are located in the EU then please make contact with us to discuss delivery and fitting options. 
If you come to us, turn it into a holiday and we will provide free camping at the campsite beside our workshop. 
Alternatively, we can travel to Europe but please discuss with us first before placing your order. It might be possible for us visit several customers on the same journey.